Welcome to the

DragonForce 65 U.S.

Class Owners Association website!

This site is your online portal to all things DragonForce 65  in the USA!
There has been an update in the Class Rules to provide clarification to some of the rules. The latest version of the rules is now posted under the USA  COA Info tab .
Click the International Class Association link for current information about our membership
Announcing the 2021 National Championship Regatta at the Trinity River YC in Dallas TX on November 12-14.
Please go to the Regatta Schedule Page for Regional and other Major Events
Congratulations to Tony Gonsalves for winning the DF USCOA/AMYA National Championship Regatta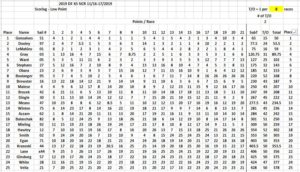 The Club List has been updated. Please let us know if your club needs to be added or if the info is incorrect.
We recently have added two interesting pages to the website. The DragonForce history of development and a great tuning video was added to the Tuning and Building Guides and Tips.



The latest revision of the DragonForce65 Restricted Class Rules has been released (v1.61). Included in the rules is the addition of the A+ sail which fulfills requests for improved light air performance for fleets that sail in predominately light wind venues. Like the B and C rigs, the A+ is permitted for use but is not mandated by the rules.
The DF65 is the fastest growing RC class in the world with over 24,000 sold to date. The USCOA has over 1100 boats registered with the class and about 360 boats AMYA registered and fleets have formed at over 120 clubs around the U.S..
The DragonForce65 excels in a large range of wind conditions and with optional class-legal smaller rigs it can handle about any conditions you can throw at it. As a Restricted One-Design boat, skippers will be putting their sailing skills to the test not their wallet.
Sailing your DragonForce promises close and exciting racing in an affordable and easily maintained design. Parts and boats are widely available and whether you are sailing on your own, with a group of friends or trying to help your club grow and flourish with a new class, the DF65 is a great choice!
The DF65 is also a class legal boat in the RG65 class  but a reminder that if your boat is registered in the RG65 Class but not the DF65 USCOA it is not eligible to participate in DF65 regattas

.