Check out the links below, plus all the online resources available in our links page!
Tuning Tips
The following link is a very nice video on tuning the DF65. Make by Patrick Rynne of the Miami RC Sailing Squadron it will be a big help to all DF65 skippers.
Here is a PDF created by Zach Kelchner to summarize the video above:
———————————————————————————————————————————-
Tuning Your DragonForce 65

 – DF65 Sail Tuning Guide by
Soch Sails

with measurements and procedure for getting your DF65 going fast!

———————————————————————————————————————————–
Next is a very handy printable Tuning Guide provided by Phil Burgess the President of the Australia DF Radio Sailing Assn.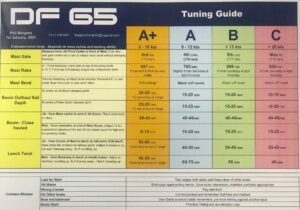 DF65 Tuning Guide
=================================================================================
Sail Making
The files that follow are PDF's of DF65 A, A+, B, C sails that can be printed full size. The drawings are made from data in the Class Rules and Mainsail Luff Curve reflects measurements from production sails.

Class Rules Sail Numbering Diagram PDF below
If you need the proper sized numbers for putting numbers on your sails per the above diagram, the PDF below prints out accurately on most printers the 8 cm high x 8mm stroke numbers.
——————————————————————————————–
Assembly Guides
DF65 Rig Kit Assembly Guide – Nice instructions  DF65 Rig Building Guide, bought a B or C rig and need some helpful tips on building it up correctly, then look no further
———————————————————————-
Other Useful Hints and Tips
Express Paint Article rev2

– A really detailed article on how to professionally paint your boat